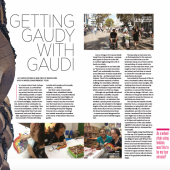 Compartim amb tots vosaltres l'article del que hem format part a Diva Magazine, unes de les revistes mes importants dins del col·lectiu LGTB.... Si el voleu llegir llencer posem el link al nostre Blog. 
Talk about Barcelona Zero Limits !!!
 I'm a travel control freak. Perhaps that's because, as a wheelchair user, I want to ensure that I and my partner have the most accessible holiday possible, or maybe I'm just a frustrated travel agent. Either way, I like to organise it all. I'll book the flights, choose the hotels, decide on those unmissable restaurants and sights – everything. Then, once at the destination, I prefer to do
my own thing rather than trust some impersonal, and most likely inaccessible, organised tour. Ten minutes to
visit a wonder of the world? Being sociable with people you'd normally avoid? Er… no thanks.
But then I came across Barcelona zero Limits, wheelchair-friendly break in Barcelona. It sounded relaxed; they'd organise the hotel, flights and transfers – and all of it would be accessible. It wasn't easy for me to hand over the travel reins to someone else but I decided to try it, giving up control over booking the trip and resigning from my role as amateur concierge too. Instead, we would put ourselves at the mercy of Barcelona's finest tour guides.......
http://www.barcelonazerolimits.com/uploads/LIZCARRBARCAJAN152.pdf [4]
Categories:
Turisme inclusiu